On November 14, the Chiba node competition of RoboCup Junior 2022 was held at Kibor, Chiba City Friedship Center For Children. A record number of four members (of three teams) from our team challenged the "Rescue Line" competition.   
As a precaution against COVID-19, the competition was held without spectators, with each division gathering at different times.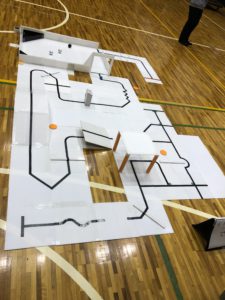 I was surprised when I arrived and saw that the course was much more challenging than the previous ones. 
In the rescue league, the robot traces a line, get through bends, intersections, and steps, climbs and descends hills, avoids obstacles, and rescues a ball that is regarded as a victim when it reaches the victim area. The robot is an autonomous robot. 
The two-member team won the 1st place and also the presentation award! Next, they will move on to the Kanto-region competition! 
Ho-okingu, a team including SAKURA Tempesta members, came in 2nd place! (This team is yet to be determined whether or not be able to go to the Kanto contest.) 
Unfortunately, our first challenge this year, "Interijenz," did not win any awards, but we were able to educate ourselves a lot about robot mechanics and programming through this challenge.  
The challenge is to be continued!